Some special touches by Jessica Murphy from Forever Yours Wedding Celebrant Gold Coast, Brisbane, Byron & Afar…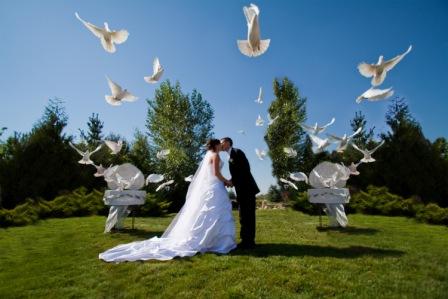 Doves Add A Beautiful Ending to Your Ceremony!
Recently I have had the pleasure of watching the surprised and smiling faces of both the guests and the Bride and Groom as beautiful white doves were released at the conclusion of the Ceremony.
Wording for a White Dove Release Ceremony
 "Doves choose one partner for life and make this commitment until death. The white dove has been used throughout history as a symbol of Love, Peace, Purity, Faithfulness and Prosperity. It is said that if doves are seen on your wedding day, a happy home is assured. These birds released here today represent the love and commitment you have given to one another this day. From this day forward, when ever you see a white dove, may you be reminded of this moment"
Father/Daughter & Mother/Daughter First Dance Songs
The First Dance Songs went over so well, I thought I would give you a little help with the Father/Daughter and Mother/Son songs too! (this is one of my favorite parts of the reception, it always brings a tear to my eyes)
▪   · Because You Loved Me – Celine Dion
▪   · Butterfly Kisses – Bob Carlisle
▪   · Daddy's Hands – Holly Dunn
▪   · Daddy's Little Girl – Al Martino
▪   · Daughter of Mine – John McDermott
▪   · Have I Told You Lately – Rod Stewart
▪   · Isn't She Lovely – Stevie Wonder
▪   · Hero – Mariah Carey
▪   · My Girl – Temptations
▪   · My Special Angel – Bobby Helms
▪   · Sunrise Sunset – Fiddler On The Roof
▪   · The Men In My Little Girl's Life – Mike Douglas
▪   · Through The Years – Kenny Rogers
▪   · Wind Beneath My Wings – Bette Midler
▪   · Turn Around – Harry Balafonte
▪   · Wild World – Cat Stevens
▪   · I Wish You Love – Dean Martin
Feel at ease, contact me today..